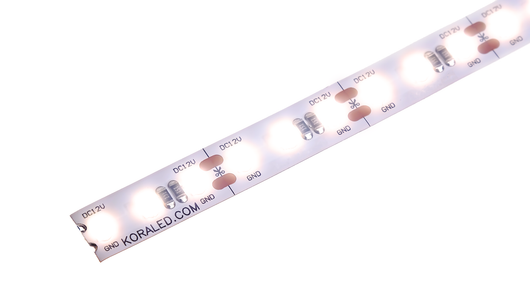 KoraLED Pro Strips - Ultra-High CRI, High Output LED light strips - CRI 99 | TLCI 99
New KoraLED Pro Strips are available in Daylight, Tungsten, and Variable (aka Hybrid/Bi-color). We use a custom blend of LED phosphors and manufacture our chips under very strict tolerances.

The color rendering of our Daylight, Tungsten, and Variable strips are up to CRI 99 and TLCI 99 and there is no visible color shift towards green or magenta. We have also optimized our lights to reproduce skin tone color values as accurately as possible.
Simply put, KoraLED Pro Strips offer the best skin tones and most accurate color we have ever seen from LED lighting all while maintaining a very high output.
Color: Daylight
CCT: 5600 Kelvin +/- 100k
Lumens: 2019 per meter
Density: 120
Length: 5 meters / 16.4 ft
Width: 10mm
Power: 12V/24V DC, 10A/5A
Wattage: 24w per meter

Color: Tungsten
CCT: 3200 Kelvin +/- 100k
Lumens: 1854 per meter
Density: 120
Length: 5 meters / 16.4 ft
Width: 10mm
Power: 12V/24V DC, 10A/5A
Wattage: 24w per meter

Color: Variable
CCT: 2600 - 6500 Kelvin +/- 100k
Lumens: 1940 per meter
Density: 120
Length: 5 meters / 16.4 ft
Width: 10mm
Power: 12V/24V DC, 10A/5A
Wattage: 24w per meter